Helping build a sustainable community in Tsavo
Since 2017, the Robert Walters Group has partnered with the Global Angels Foundation to support the Itinyi Valley community in Tsavo, Kenya. There, in one of the country's driest regions, the local people are living in extreme poverty, with limited access to proper nutrition and clean drinking water.
"We're really passionate about coming alongside the people here in this community, and helping lift them out of poverty," says Molly Bedingfield, founder of Global Angels, "and to do that, we need to be here long-term and build a really solid project that is a model that can be replicated right across the valley."
The Robert Walters Group is committed to playing an active role in transforming Tsavo — not only by raising money for key projects, but also by sending our very own staff volunteers to Kenya.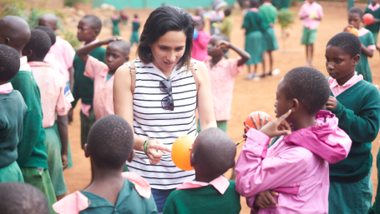 "Step up, be an angel"
Each year, we send eight volunteers to Tsavo to work with the Itinyi Valley community, building critical pieces of infrastructure to support sustainable farming and provide access to clean drinking water. We've also invested in building a new classroom at the local secondary school, giving students the option to further their educations, as well as a community farm centre and mill to process crops and teach people about sustainable farming practices.
Richard Pate, direct recruiter from our Resource Solutions business, was selected to volunteer in 2018. "It was a real privilege to be able to go to Tsavo," said Richard, "and see how the money given by the Group has been spent, and to be able to measure the impact it's had on the community."
We're already preparing to send our 2019 cohort of volunteers to Tsavo, and are excited to continue supporting Global Angels' life-changing work.
Choose a story from the list to get a first-hand account of the Global Angels experience from one of our amazing volunteers.