Empowering a community with Global Angels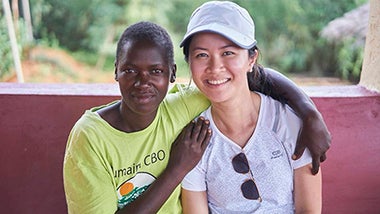 In June 2017, the first of our staff volunteers made the journey to Tsavo, a remote area of Kenya to support the work of our charity partner, the Global Angels Foundation. Since then, three more volunteer groups have helped support Global Angels' work to empower the community of Tsavo through our employee volunteer programme.
We asked Coby Leung, a banking and finance consultant based in our Hong Kong office, to share her experience of volunteering with Global Angels and how the Robert Walters Group is helping to make a difference.

Why did you want to volunteer with Global Angels?
"I've always enjoyed volunteer work; environmental projects are a big passion for me and having the chance to volunteer in Africa was a dream come true. I couldn't believe my luck when I was picked!
What challenges did you face on the trip and how did you overcome them?
It was difficult to see just how much need there is in Tsavo – it was the absence of everyday, necessities that really struck me. For example, we helped to lay the foundations of the new community centre using make-shift cement from rocks and many of the people from the community were carrying out this back-breaking manual labour wearing flip flops because that's all they have. Experiencing this need first-hand was a difficult experience and it really opened my eyes just how hard it is, both physically and emotionally, for the Tsavo community to make the changes they need to build a better future.
Despite these challenges, everyone we met in Tsavo had an overwhelmingly positive attitude and were incredibly appreciative of the changes Global Angels are helping them to effect. I was humbled by how welcome the community made us feel. Although food is scarce in Tsavo, and people largely survive by eating food with low nutritional value, such as corn, we were given a rooster to eat as thanks for our help. It was a generous gesture and it really reflected the impact of Global Angels work – although things are still tough, the community can look towards a more positive future.
What were your highlights from the trip?
I really enjoyed having the opportunity to get a bit closer to nature and learn how small changes have helped transform Tsavo. One moment that has stuck with me, was meeting one of the women from the community while she worked in one of the new shade houses, which were funded by the Robert Walters Group. Although the woman couldn't speak English, I could see her passion for her garden and how it had made a positive change to her life. It was amazing to see how quickly the shade netting project has made such an enormous impact.
I also had a great time getting to know colleagues from other areas of the business, we had a lot of free time in the evenings so we enjoyed lots of card games and sharing poems and stories. There was a lot of laughing! We also had the opportunity to go on a safari; it was incredible to see animals like elephants and giraffes up close.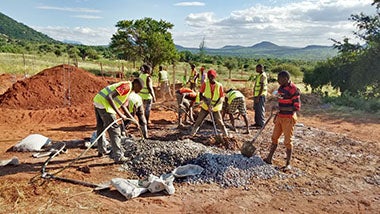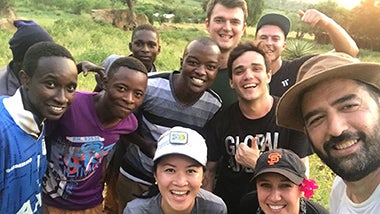 Why would you recommend volunteering with Global Angels?
For me, volunteering with Global Angels in Tsavo has been a life-changing event. I feel so lucky to have experienced a part of the world that I would never have seen otherwise. Working with Global Angels and the Tsavo community has enabled me to learn so much about the environment and sustainability, and I've gained a whole new appreciation for what I have.
Through the Global Angels Volunteer Programme, the Robert Walters Group isn't just giving money, it's providing staff with the opportunity to understand exactly what communities like Tsavo need and how time and money can be invested to help them build a sustainable future. For example, helping to build the new community centre not only provides food and sustainable jobs, but also creates a place where the local children can learn about organic farming and water collection.

Volunteering with Global Angels offers the chance to help empower a whole community and effect positive change that will influence generations – it's truly a once in a lifetime opportunity."