How we can all make a difference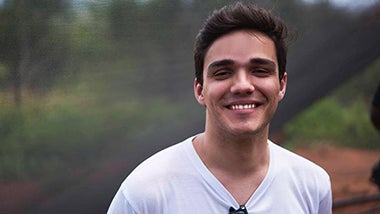 What does it take to affect real change? Through our partnership with the Global Angels Foundation, a small international development charity, we're helping to empower the community of the Itinyi Valley in Tsavo, Kenya by supporting Global Angels' work to implement the resources the community needs to thrive.

Each year, we give eight staff the opportunity to work with Global Angels' in Tsavo. From building a new classroom to installing essential shade netting, our Global Angels Volunteering Programme, offers the opportunity for our people to get involved in projects that are changing lives for the better.
We caught up with one of our recent volunteers, Manuel Valdecantos, a finance consultant for our junior professional staffing business, Walters People, to hear his experience of volunteering and how we can all make a difference.

Volunteering with Global Angels
"I've always loved travelling to different places. When I was a teenager I took part in a volunteering trip in Peru for a month. It was a fantastic experience, so when I saw the opportunity to volunteer in Tsavo with Global Angels, I had to apply. I was really excited by the prospect of seeing the 'real' Kenya as well as the opportunity to meet with colleagues from across the Robert Walters Group. The fact that the trip would be organised on my behalf was also a big appeal.

Connecting with the wider world
I had imagined Kenya to be quite cut off from the rest of the world, so I was really surprised to see people with mobile phones and internet access. However, despite being able to gain an insight into the wider world, the lifestyle in Tsavo is a world apart from the lifestyle most of us are used to. It's difficult to not be shocked by just how little resources the people there have but the thing that struck me most was how incredibly happy and positive the people seemed to be despite having so little. Everyone I met was friendly and made a big effort to make us volunteers feel welcome. On one evening some of the women in the community performed a traditional dance, which was a real highlight for me. It was a really fun evening and I loved having the opportunity to experience a different culture.

Seeing change happen
Before volunteering with Global Angels, I'd been sceptical about whether charity donations are fully invested in projects on the ground. However, with Global Angels, I can say with absolute confidence that all the money raised through donations is driven straight back into essential projects to help communities like Tsavo build a sustainable future.

It was amazing to be able to meet the people that the Group is helping through its partnership with Global Angels and actually see where the money has been spent and the positive impact it has had on the community.

During our time in Tsavo, our volunteer group helped to build the foundations for a new farm house. It was really exciting to be able to learn something new and I feel very privileged to have been able to play a small part in a project that is going to bring big change. Having a working farm will create sustainable jobs as well as develop the local economy through exporting crops.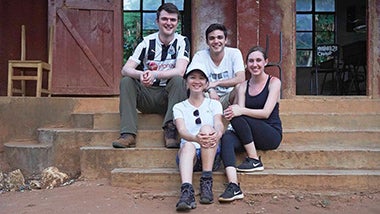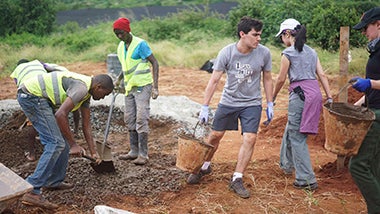 Getting involved
I'd gone into the volunteering experience with the expectation that I'd be the one giving but I feel that I learnt so much more than I gave. The happiness and positivity of the Tsavo community has really inspired me, challenged my perceptions and given me a far greater appreciation for the things that I have. But, my biggest takeaway from the experience is that we can all make change happen and have a lot of fun doing it."