Making a difference with Global Angels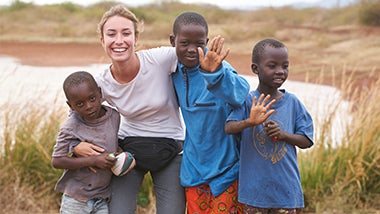 What does it take to affect real change? Through our partnership with the Global Angels Foundation, a small international development charity, we're helping to empower a community in Tsavo, Kenya by providing the resources they need to become sustainable.

Each year, we give eight staff the opportunity to work with Global Angels' in Tsavo. From building a new classroom to installing essential shade netting, our Global Angels Volunteering Programme, offers the opportunity for our people to get involved in projects that are changing lives for the better.

Myriam Gil, a consultant for our junior professional staffing business, Walters People, shares her story.

Why did you want to volunteer with Global Angels?

"I was very curious about the Group's work in Tsavo, and I decided that the best way to find out more was to go to Kenya myself, live close to the people and help in every way that I could."
What did you do to help?
"One of the activities was to build and paint a water reservoir which we completely finished. However, I believed the greatest way that I could help was by mixing with the local people from the village, exchanging different points of view, making them laugh, working together, playing with the children… I think the mission was not uniquely focused on painting or laying bricks, it was deeper than that."
What was your most memorable moment from the trip?
"The most memorable moments came from when we joined the people in the village and could really see their customs, traditions and their way of life up close. A key moment for me was going to the school to distribute the gifts we had brought the schoolchildren, such as colouring books, crayons, pens, balloons and puppets.

I have never seen children so happy before, and this feeling cannot be put into words. Every time I think about it I get goose bumps. It's when you are there that you start to truly appreciate everything we have."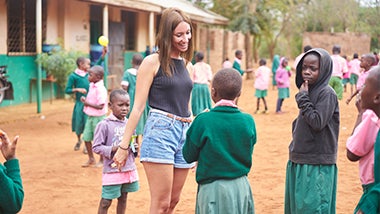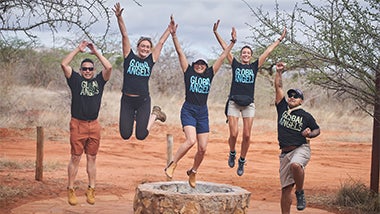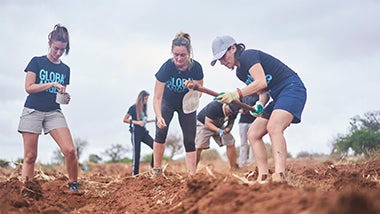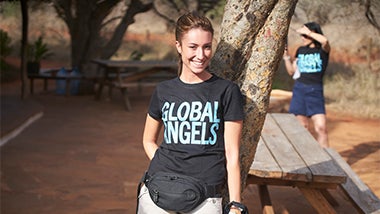 What have you learnt from the experience?
"I've learnt that it's not the people who have more who are the happiest, but those who need fewer things. Maybe this is a typical answer, but you don't truly realise this until you feel it."
Why would you recommend volunteering with Global Angels to others?
"I can't describe with words alone what this trip has meant to me, as it has not been merely an experience, but the incentive to make me want to do much more volunteering work. I could highlight a thousand different moments from this trip, but I would need a whole book for that. What I can say is that the people, both my companions and the team in Kenya, made me feel at home; they allowed me to be part of their culture, albeit only for a few days. I never thought it possible that in such a short period of time you could create such a strong bond. I will never forget it."
If you could sum up your experience in one word, what would it be?
"Incredible."

Follow us on Instagram to hear more about our work with Global Angels.