Meet the judges
In 2019, entries were assessed by our judging panel according to the criteria laid out in the brief to artists. Together, they looked for artists who​ showed significant potential, an original voice and exceptional artistic talent.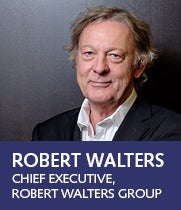 Robert Walters is the founder and CEO of Robert Walters Group, a global specialist recruitment group spanning 31 countries. As a passionate supporter of the arts, Robert Walters is a tenured supporter and patron of prestigious arts organisations including the V&A, Saatchi Gallery and the National Portrait Gallery. He has also personally invested in seed capital projects ranging from a stage musical to an award-winning short film.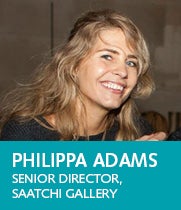 Since becoming Saatchi Gallery Director, Philippa Adams has become an integral part of the transformation of Britain's best-known and most popular private museum of cutting-edge contemporary art. Working directly on the collection, liaising with artists and galleries on new acquisitions and commissions, she has worked on the Saatchi exhibitions and accompanying publications drawn from the collection, many of which have travelled to major museums and institutions worldwide.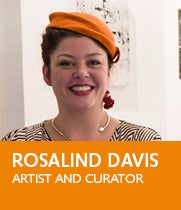 Rosalind Davis is an artist-curator and a graduate of The Royal College of Art (2005) and Chelsea College of Art (2003). Davis is the permanent Curator at Collyer Bristow Gallery and has an expertise in the arts and creative sector. Her exhibition, Complicity: Artifice and Illusion, was reviewed by Art Top 10: "Cracking Show. Superb Artists. Brilliantly curated." Previous curatorial projects have been at Standpoint Gallery, Geddes Gallery and with ZAP at Bond House Gallery (ASC). Davis has previously co-directed and developed two innovative and dynamic artist's educational, membership and exhibition arts organisations; Zeitgeist Arts Projects (ZAP 2012-15) and Core Gallery (2009-11) based in London. Davis is a published writer for a variety of publications and co-author of What They Didn't Teach You In Art School, commissioned by Octopus Books and internationally distributed since 2016.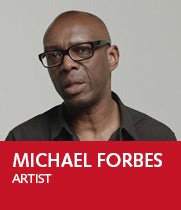 Michael Forbes' practice explores contemporary racial politics and migration, which is informed by history and religion — using sculpture, photography and installations.

His work has been exhibited across the UK and internationally, including at the Venice Biennale 2017, Yinka Shonibare's Guest Projects, ISCP New York, and Amerikahaus Pasinger Fabrik, Munich.

Forbes is a founding member, Chair of Trustees & Directors of Primary (Nottingham) and played a leading role in developing the New Art Exchange and its programme from 1999 - 2010. He is currently completing his MA in Sculpture at the Royal College of Art.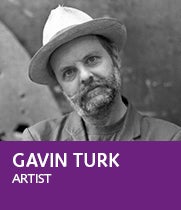 Gavin Turk (b. 1967) is a British-born, international artist. He has pioneered many forms of contemporary British sculpture now taken for granted, including the painted bronze, the waxwork, the recycled art-historical icon and the use of rubbish in art.

In 1991, the Royal College of Art refused Turk a degree on the basis that his final show, Cave, consisted of a whitewashed studio space containing only a blue heritage plaque commemorating his presence, 'Gavin Turk worked here 1989-91'. Instantly gaining notoriety through this installation, Turk was spotted by Charles Saatchi and was included in several YBA exhibitions. Turk's work has since been collected and exhibited by many major museums and galleries throughout the world.

Prestel published Turk's first major monograph in 2013, showcasing more than two decades of his work and in 2014 Trolley Books published This Is Not A Book About Gavin Turk, which playfully explores themes associated with the artist's work via thirty notable contributors.

Turk has recently been commissioned to make several public sculptures including L'Âge d'Or (2016), sited on the south corner of the Press Centre building in the Olympic Park and Nail, a 12-meter sculpture at One New Change, next to St Paul's Cathedral in London, England.
Meet the curator
The 2019 finalists' work was curated at the Saatchi Gallery by Garth Gratrix. Garth Gratrix is an internationally exhibiting artist, curator and director based in the North West. Garth works in favour of the artist as part of wider strategic developments that consider and impact on culture, people and place. From Gallery installations, site specific interventions, residencies, research and engagement programmes to large scale festival production, Garth has an open and progressive way of producing collaborative platforms for art.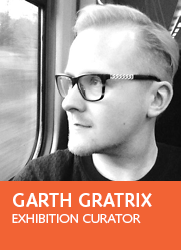 Garth Gratrix was Places for Art Manager for LeftCoast — Blackpool's Creative People & Places programme supported by Arts Council England, which led to the development of the first contemporary arts studios on the north-west Lancashire coastline — Abingdon Studios Ltd. Alongside establishing new spaces for artistic experimentation, Garth has also acted as Art Commissioning Lead for Art B&B CIC, a capital works project in Blackpool reimagining the role art plays within hospitality and tourism. Recent work with UKYA has included GRAFT, an exhibit showcasing young artists from across the UK in the second-most visited contemporary art exhibition to have been on display at The Harris Museum, Art Gallery & Library, Preston. Garth has twice been shortlisted for the Clore Visual Artists Fellowship.